Boarding Your Cat
Visiting felines have their own separate temperature controlled quarters, away from the noisy canine guest. Individual kitty-caves contain sleep perches, litter box with premium clay litter, stainless steel bowls for food and water, and some have a window. All kitty-caves are disinfected between visitors and cleaned daily.
You are welcome to bring bedding and toys to make your pet's stay more comfortable. We are not responsible for loss or destruction of personal items.
Our "House" food is a high quality dry food. If your cat requires canned food or a special diet, you are welcome to bring it and we will feed according to your instructions. Fresh water and clean litter box always available.
Proof of current shots is necessary at check-in. Feline Distemper and Rabies are mandatory; Feline Leukemia is recommended. All cats are checked for fleas, ticks and general good health prior to admittance. Any passengers (fleas/ticks) will be removed at the owners expense before entering the boarding area.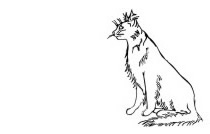 Your Pet's Safety
At Pedzik's we reside on the premises and are available to your pet at all times. We are equipped with fire and security alarm system. Emergency veterinary care is on call for us 24 hours a day.
We welcome visitors at any time during normal business hours. At Pedzik's we'll give your animal the same care as we give our own.